Calendar
It's very easy (i.e., inexpensive!) to add a calendar to your business program using Microsoft Access ®, either as a "popup" on demand or imbedded into a screen.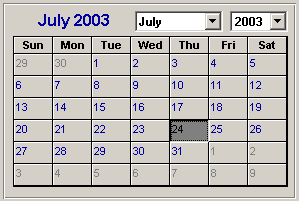 This calendar can be programmed. For example, when you click on a certain date you could see all the orders you have scheduled for delivery on that date.

Are you looking for someone to give you creative solutions to your problems? I've got a lot of tricks up my sleeve - contact me to see which might be appropriate for you.


---
Peck Tech Designs - consultants providing creative custom software development, integration, Internet web site programming, database design, and application and data conversion to clients in Connecticut and throughout the USA.
Copyright © Rachel Peck 2003 - all rights reserved
Terms and Conditions of use