System overview
This is a program for:
storing student and billing information,
generating monthly student bills and printing invoices
tracking payments received
keeping track of unpaid balances
charging a late fee automatically if payment isn't received by a certain date.
Interesting features
With the click of a single button, the system does all the operations for the monthly billing automatically. First, it determines if any late fees should be charged; if so, it adds them to the appropriate families. Then it generates invoices for all the students on "Active" status, including the current fee, any past due amounts, and late charge, if any.
The invoices are formatted so they can be folded in thirds and fit into a standard-size window envelope. This system more than paid for itself because it replaced a billing service.
The little boxes to the left of the phone numbers are to indicate the order in which those numbers should be called in case of emergency.
Pop-up screen to enter payments received
This system takes the easy, inexpensive route with payments. The user clicks the "Payment" button to the left of the appropriate charge, then the following pops up: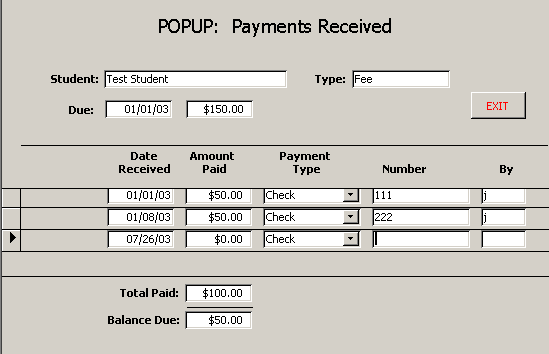 Note that:
It shows the date, amount and type of the selected fee at the top;
It allows multiple payments, and
It automatically calculates "Total Paid" and "Balance Due"

Do you need something like this? A simple system like this is affordable for almost any size business. Please contact me and I'll give you a free estimate.