Receipt Allocations the Easy Way
One of my clients wanted a simple, inexpensive billing and payment system. The main screen for each student shows a list of what's due:

Then, when they click the "Payment" button to the left of whatever is being paid, they see this: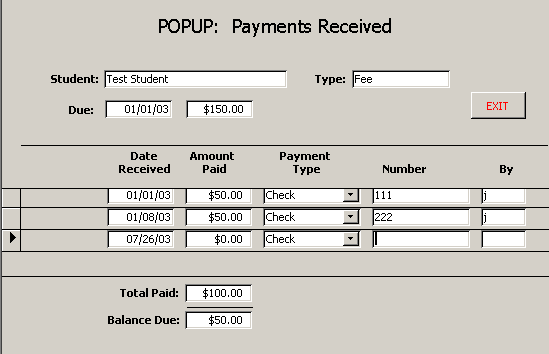 Note that:
It shows the date, amount and type of the selected fee at the top;
It allows multiple payments, and
It automatically calculates "Total Paid" and "Balance Due"
Advantages of this system
It's very easy to use, and very inexpensive.
Disadvantages of this system
If one check comes in to pay multiple charges, there's nothing in the system to prevent your making a mistake.
For example, let's say the check is for $80.
There's nothing to prevent you from allocating $50 to one charge and $50 to another charge - so the users have to be very careful.
This defect is addressed in my full-blown receipt allocations that was done as part of a complete invoicing and accounts receivable system.
This is a "popup" from our main website; click below to see other examples of creative techniques using Access (for business programs) and Javascript and ASP (for web sites).

---
Peck Tech Designs - consultants providing creative custom software development, integration, Internet web site programming, database design, and application and data conversion to clients in Connecticut and throughout the USA.
Copyright © Rachel Peck 2003 - all rights reserved
Terms and Conditions of use