I take great pride and pleasure in making my clients thrilled with:
custom programs, websites, and intranets,

conversion of older computer systems to newer technologies, and

improving the speed, power, ease of use, and appearance of existing programs and websites.

I can help you with...
| | |
| --- | --- |
| A custom system | Did you know that modern programming tools put custom software development within the reach of almost any business? Your business is unique; so are your programming needs. |
| A slow system | Often speed can be increased dramatically simply by the way information is selected from the database; changes in database design are often very helpful as well |
| An expensive quote | Since we're a small operation, our overhead is lower and we're more efficient; let us give you a new quote |
| An old, ailing system | I can convert data and applications from almost any older system to newer technologies at a very reasonable cost (IBM System 36, FoxPro, etc.) |
| The impossible! | I've never had to say no to a client! I particularly enjoy a good challenge. Give me your hardest problem, or your biggest dream, and see what I can do for you. |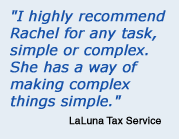 I have a proven track record and rave reviews from every client I've ever had.
Send me an email or call me at 203/488-4596 for a refreshing, enlightening, free consultation.
(and... because I used to be a business manager myself, I speak English instead of Computerese - spend a few minutes with my Computer Overview to see what I mean).

My systems pay for themselves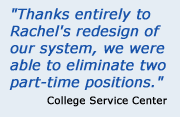 In the last year alone, I've done two different systems that made getting the work done so much more efficient that an entire position was eliminated.
I always look for opportunities to make my programs pay for themselves rapidly by:
Increasing employee productivity (hence profitability),
Automating time-consuming tasks to reduce staff, and
Using modern high-productivity tools to give the most bang for the buck.
Excellent "data integrity" - checks on the information going in - to reduce mistakes
Plus, the "residual cost" of my programs is much less than those from larger organizations because:
No "license fees," "maintenance contracts," or "service contracts"; you only pay for what you need when (if) you need it
My programs are easy to use and "intuitive (minimal training cost)
There are few bugs and very solid code (very little maintenance cost)
Excellent database design, to minimize cost of future changes

Service, service and more service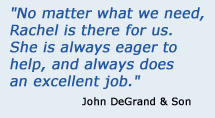 Above all, my top priority is sterling, personalized customer service.
I always return phone calls promptly. While I can't always meet your requests immediately, if it's something urgent I will always find a way to fit it in. I meet my deadlines and stay in constant communication when working on a project. After a project is completed, I'm available for as much support as you need, even years later.
Unlike larger firms, mine isn't hampered by inflexible policies and procedures. I take personal responsibility for your project and don't just hand it off to a low-cost, entry-level programmer to make the most profit.
I promise to make you as happy as all my other clients - read my references!

Call me now!
Whatever you need, I will find a creative way to solve your problems or realize your dreams in a cost-effective way. Please contact me via email, or call me at 203/488-4596; I'm sure to have some good ideas for you.